Patient Downloads
A multidisciplinary approach to spine care in Austin, Texas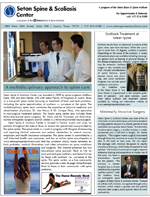 Texas Spine and Scoliosis was founded in 2009 by spine surgeons Matthew Geck, MD and John Stokes, MD with Seton Family of Hospitals in Austin, Texas as a non-profit spine center focusing on treatment of back and neck problems, including the spine specialization of scoliosis— curvature of the spine. The multidisciplinary spine team combines the expertise of physical medicine and rehabilitation physicians, Dr. Lee Moroz & Dr. Enrique Pena, who specialize in non-surgical treatment options. The Austin spine center also includes three fellowship-trained spine surgeons. Dr. Geck and Dr. Truumees are fellowship-trained orthopedic surgeons and Dr. Stokes is a fellowship-trained neurosurgeon.
Click here to download an overview of Texas Spine and Scoliosis in Austin, Texas.
Dr. Matthew Geck, First Surgeon in Texas to Perform Minimally Invasive Posterior Scoliosis Surgery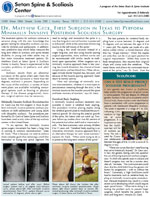 The treatment options for scoliosis continue to advance along with the new knowledge that genetic testing for idiopathic scoliosis can give doctors in children and adolescents. In addition, new predictive data which helps measure the long term effect of scoliosis and spine related disability in young and older adults may allow more innovative treatment options. Dr. Matthew Geck at Texas Spine and Scoliosis in Austin, Texas is experienced in the complex problems of pediatric and adult scoliosis.
Click here to download and read more.