How to Lift Without Hurting Your Back
When lifting, maneuver the object close to your body, and use the strength in your LEGS to get the object off the ground, rather than your low back.
Lifting Menu
Proper Lifting - Single Knee Method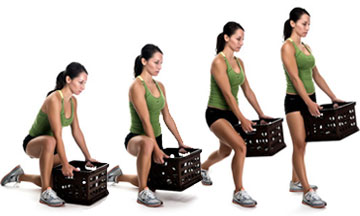 Start with one knee on the floor, use the strength of your arms to raise the object up onto your mid-thigh, then use the power of your legs to stand up.
Proper Lifting - Squat Method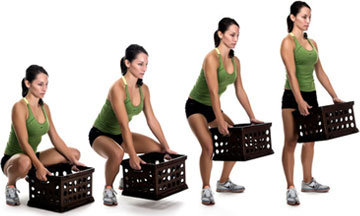 An alternate way to lift is to position the object in between your knees. Keeping your back straight and arms extended, begin to stand up using the power of your leg muscles, rather than your back, to generate the lifting force.
Incorrect Lifting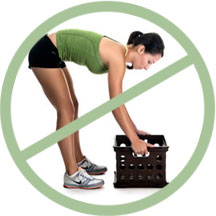 Note that the left image above shows the incorrect stance for lifting. This posture is dangerous because of the unnecessary strain it puts on the back
Have you ever heard of anyone straining a thigh muscle while lifting? Hardly ever. That is because the muscles in the legs are longer, stronger, in better shape and more resistant to strain. The muscles and ligaments in the back are shorter and prone to muscle spasm.