For those with chronic back pain, new minimally invasive "Intracept" procedure can provide lasting pain relief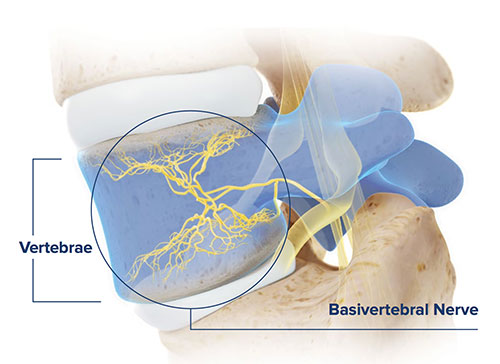 It can be difficult to determine the exact cause or source of ongoing chronic low back pain lasting more than 6 months. One potential cause of chronic low back pain may be tied to the basivertebral nerve. The basivertebral nerve is actually found within the vertebral bone in the low back.
A new outpatient, minimally invasive procedure provided by Texas Spine and Scoliosis is the Intracept Procedure, which is intended to intracept — and interrupt — the transmission of pain signals from the internal nerve inside the vertebral bone to the spinal cord and the brain.
The branches of the basivertebral nerve extend from the center of the boney vertebrae to the upper and lower surfaces of the vertebrae. With age and degeneration of the spine, additional stress can be placed on the vertebrae which can put pressure on the basivertebral nerve — leading to chronic low back pain. For those with chronic pain, this basivertebral nerve can be stuck in the ON position, continually sending pain signals to the brain.

With the Intracept procedure, the physician makes a 3mm to 5mm incision in the low back and a radiofrequency probe is then inserted to access the center of the vertebrae at the trunk of the basivertebral nerve. Heat is applied through the probe desensitizing the nerve making it unable to transmit a pain signal. Texas Spine and Scoliosis is one of the first spine centers in the State of Texas to provide this new procedure.
Frequently Asked Questions:
Who qualifies for Intracept?
This procedure only relates to those people with chronic low back pain for more than 6 months and have not received adequate relief through other conservative care options for at least 6 months.
How long does the procedure take?
The average time for The Intracept Procedures is about 1 hour and 20 minutes. The procedure is typically done in an operating room in the hospital or an Ambulatory Surgery Center, with the patient going home later the same day.
What are the outcomes?
Relievant Medsystems, which is the company that developed the Intracept Procedure, sponsored three clinical trials enrolling approximately 400 patients that demonstrated the safety and effectiveness of the Intracept Procedure. Pain scores improved 53% over 24 months for those receiving the procedure.
Which physicians do the procedure at Texas Spine & Scoliosis?
Dr. Eeric Truumees, Dr. Enrique Pena and Dr. Eric Mayer at Texas Spine & Scoliosis are proficient in the Intracept procedure. Appointments and more information available at: 512-324-3580.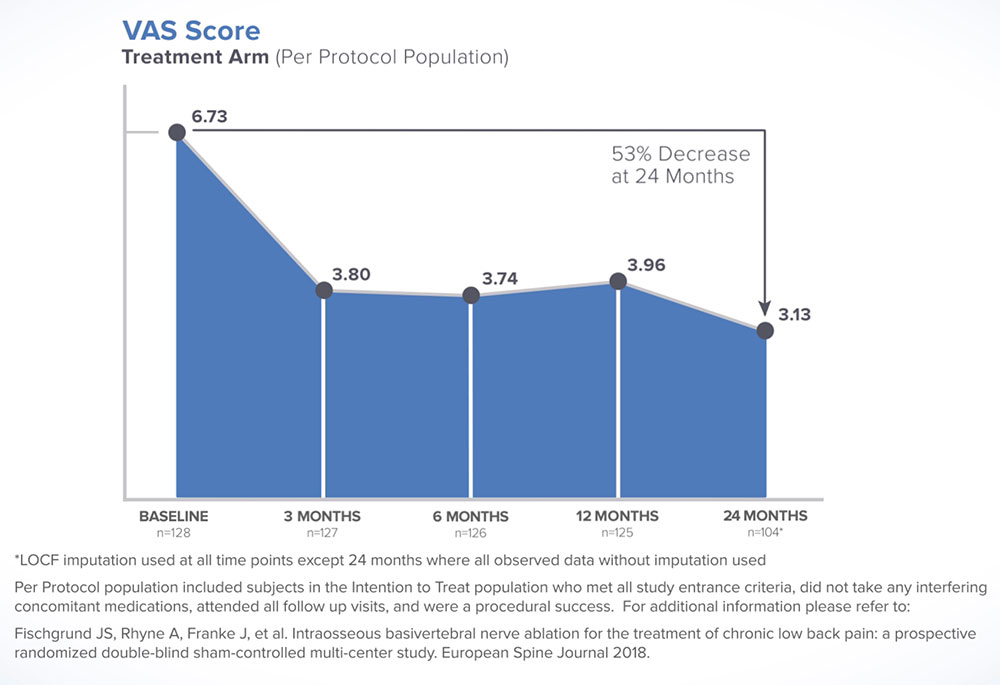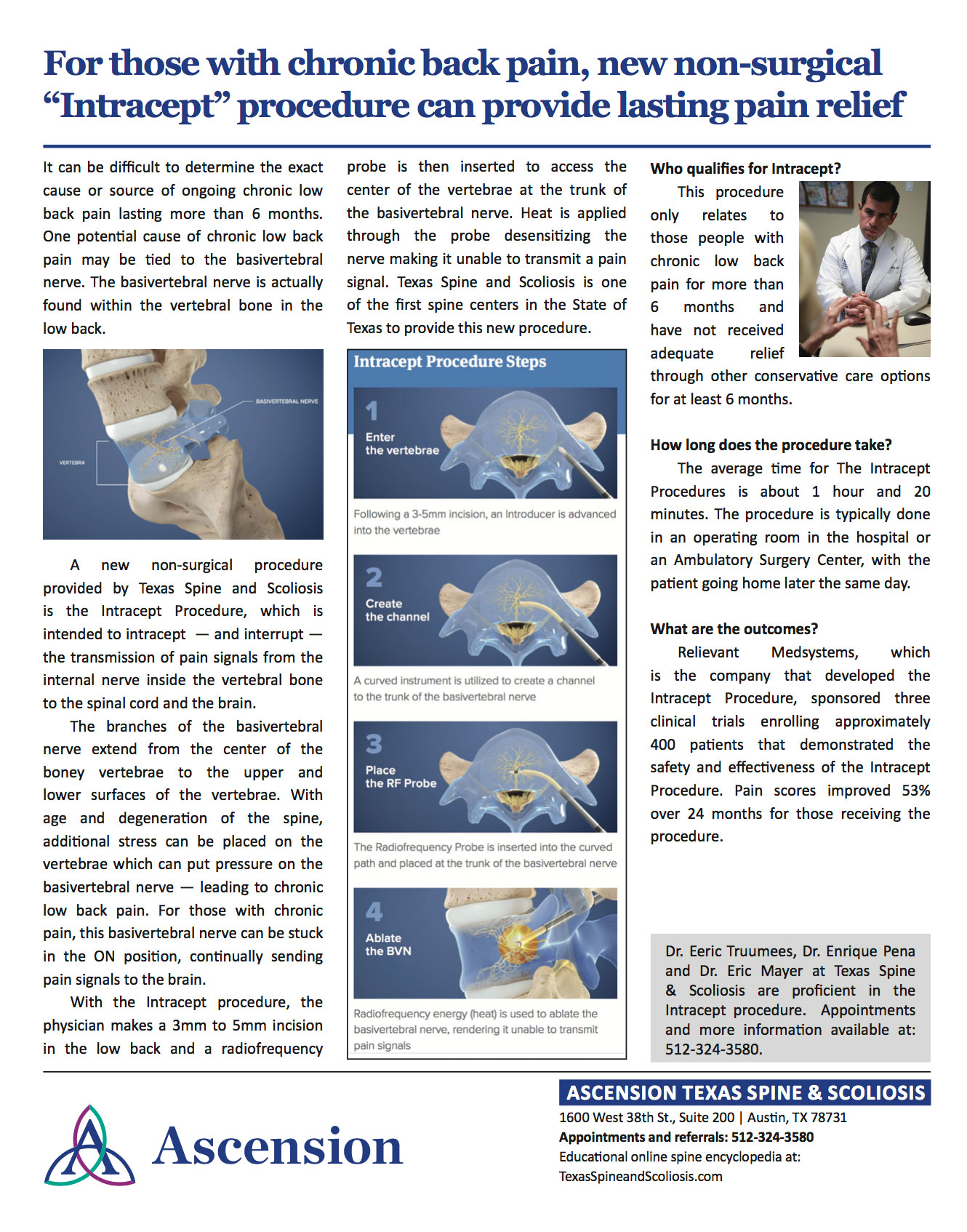 Click here to download brochure
MKT 0136 Rev A Kourtney K HD 1080p from Relievant Medsystems on Vimeo.
Treatment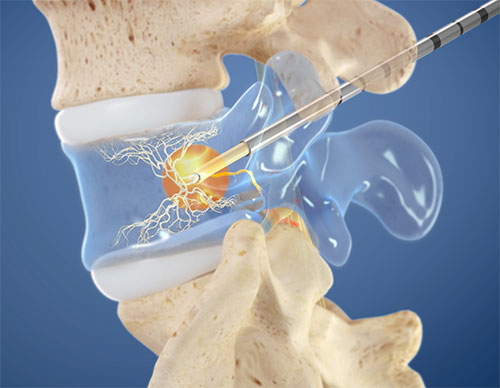 Learn about surgical and nonsurgical treatment options.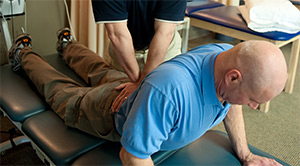 Learn about nonsurgical options to get you back to your everyday activities.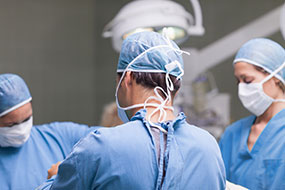 Learn about various surgical procedures performed by Ascension Texas Spine & Scoliosis.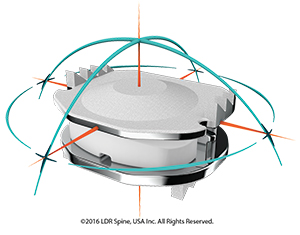 The artificial disc concept is intended to be an alternative for spinal fusion surgery.